Meritage Homes Privacy Notice
This Privacy Notice describes how Meritage Homes ("Company"), along with our commonly branded affiliates, MTH Mortgage, LLC, Carefree Title Agency, Inc. and Meritage Insurance Agency, Inc. (collectively, "Meritage"), collect, use, and share your personal information through this website ("Site"), offline, or otherwise in the course of Company's business. Meritage is committed to maintaining the privacy and security of your personally identifiable information. Please carefully read this Privacy Notice.
Company may amend this Privacy Policy at any time without specific notice to you. The most recent form of this Privacy Notice will be posted at all times on the Site, and you should review this Privacy Notice each time upon visiting or using the Site. You agree that each time you enter or use the Site, you accept and comply with, and agree to be bound by, this Privacy Notice, as modified.
Definitions
Please refer to the Terms of Use for definitions of words with initial capital letters that are not otherwise defined in this Privacy Notice.
Collecting Personal Information
Information Company Collects
Company collects information that identifies, relates to, describes, references, is capable of being associated with, or could reasonably be linked, directly or indirectly, with a particular consumer or device ("personal information"). In particular, Company has collected the following categories of personal information from its consumers within the last twelve (12) months for the business purposes briefly listed below. Please see "More Information About Why We Collect Information" for a complete list of the business purposes of our information collection activities.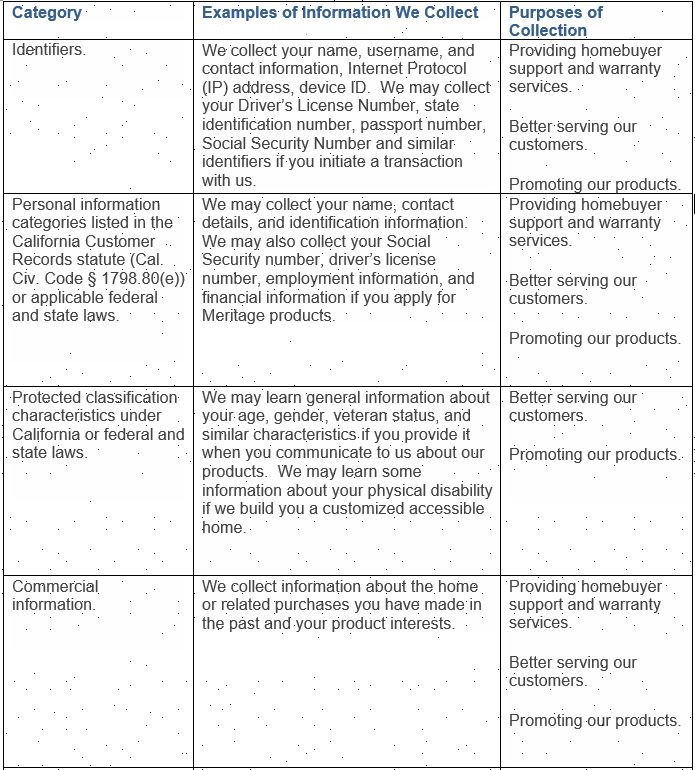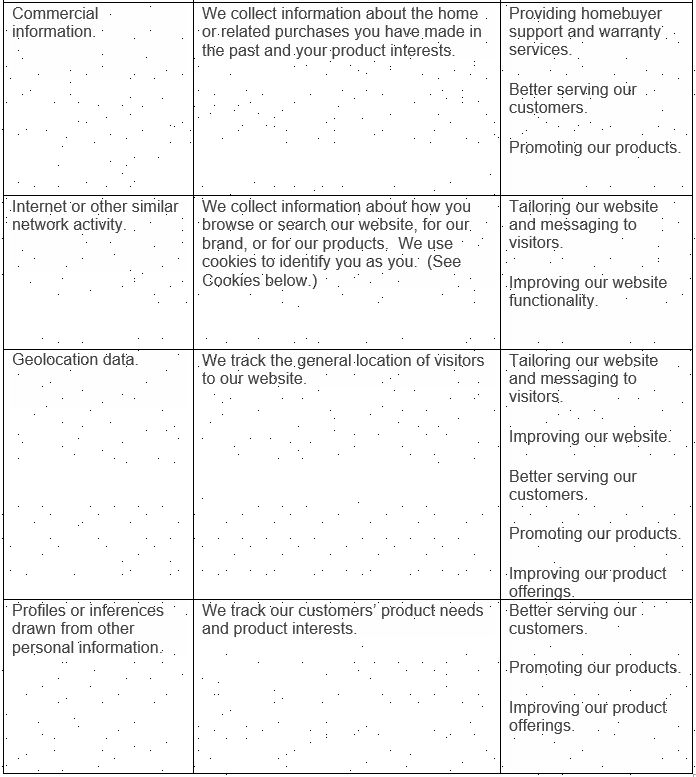 We do not collect:
Biometric information.

Sensory data.

Professional or employment-related information.

Non-public education information (per the Family Educational Rights and Privacy Act (20 U.S.C. Section 1232g, 34 C.F.R. Part 99)).
The "personal information" listed above does not include:
Publicly available information from government records.

Deidentified or aggregated consumer information. Company may use or disclose de-identified or aggregated information (that is no longer personally identifiable) for any purpose.

Information covered by sector-specific privacy laws like the Health Insurance Portability and Accountability Act of 1996 (HIPAA); the Fair Credit Reporting Act (FRCA), the Gramm-Leach-Bliley Act (GLBA) or California Financial Information Privacy Act (FIPA), and the Driver's Privacy Protection Act of 1994.

Information about our contractors, employees, or candidates for employment—if you are a Company contractor, employee, or candidate, please see the Company's Contractor/Employee Privacy Notice for more information.
Cookies
Company reserves the right to place a text file called a "cookie" (or a piece of information transferred to your hard disk for record keeping purposes) in the browser files of your computer. The cookie itself does not contain information that would personally identify you, although it could enable Company to relate your use of the Site to information that you have specifically and knowingly provided to the Site.
Our site collects site usage information for the purposes of improving our site content and user experience. Third party vendors, including Google, use cookies to serve ads based on a user's prior visits to our website. Third parties may use cookies to track your activity across multiple websites and provide you with online behavioral advertising customized to your interests.
You can choose to opt out of having site activity logged by clicking here.
Sources of Personal Information
We obtain all of the categories of personal information listed above from the following categories of sources:
Directly from you. For example, from forms you complete, products and services you purchase, or when you engage with our Chatbot on the site.

Indirectly from you. For example, from observing your actions on our Site using cookies.

From third-party service providers. For example, we obtain demographic data from a third-party service provider to use for marketing analytics.
Who is Collecting Information
When you are on the Company Site and are asked for Personally Identifiable Information, you are sharing that information with Meritage Homes. Company may also contract with third parties to perform services on the Company Site that require these companies to collect personally identifiable information (e.g. hosting a job applicant information gathering, assessment, and testing site, or preferred lender site).
More Information About Why We Collect Information
We may use or disclose the personal information we collect for one or more of the following business purposes:
To fulfill or meet the reason you provided the information. For example, when you speak to one of our employees or agents, the information you supply to us is also added to our customer database. If you provide your personal information to purchase a home, we will use that information to facilitate delivery and provide you with support.

To provide, support, personalize, and develop our Site, products, and services.

To create, maintain, customize, and secure your account with us.

To process your requests, purchases, transactions, and payments and prevent transactional fraud.

To provide you with support and to respond to your inquiries, including to investigate and address your concerns and monitor and improve our responses.

To personalize your website experience and to deliver content and product and service offerings relevant to your interests, including targeted offers and ads through our Site, third-party sites, and via email or text message (with your consent, where required by law).

To help maintain the safety, security, and integrity of our Site, products and services, databases and other technology assets, and business.

For testing, research, analysis, and product development, including to develop and improve our Site, products, and services.

To respond to law enforcement requests and as required by applicable law, court order, or governmental regulations;

As described to you when collecting your personal information; or

To evaluate or conduct a merger, divestiture, restructuring, reorganization, dissolution, or other sale or transfer of some or all of our assets, whether as a going concern or as part of bankruptcy, liquidation, or similar proceeding, in which personal information held by us about our users is among the assets transferred.
Sharing Personal Information
Company may disclose your personal information to a third party for a business purpose. When we disclose personal information for a business purpose, we enter a contract that describes the purpose and requires the recipient to both keep that personal information confidential and not use it for any purpose except performing the contract.
In the preceding twelve (12) months, Company has disclosed the following categories of personal information for a business purpose:
Identifiers.

Personal information categories listed in the California Customer Records statute (Cal. Civ. Code § 1798.80(e)) or applicable federal and state laws.

Protected classification characteristics under California or federal and state laws.

Commercial information.

Internet or other similar network activity.
We share your personal information with the following categories of third parties for business purposes:
With Meritage entities.

Our service providers or business partners who are acting on our behalf.

Data aggregators.

Government entities, if required by law or reasonably necessary to avoid harm.
We may also disclose your personal information in the following situations:
If we have reason to believe that disclosing this information is necessary to identify, contact or bring legal action against someone who may be violating our Terms of Use, may be violating Company's or others' rights, or causing injury to or interference with Company's or others' property.

When we believe in good faith that the law requires the disclosure.

In the event that Company is acquired, merged with, or bought by another company.

To business partners that provide services selected by you, at your request.
Sharing excludes text messaging originator opt-in data and consent; this information will not be shared with any third parties.
Sales of Personal Information: In the preceding twelve (12) months, we have not sold personal information. Our policy is that we will not sell your personal information, unless you give us your consent or direct us to do so.
Your Rights and Choices About Your Personal Information
Access to Information and Opting-Out
Company strives to keep your personal information accurate. We will provide you with access to your information, including making reasonable efforts to provide you with online access to your information. To protect your privacy and security, we will also take reasonable steps to verify your identity before granting you access or enabling you to make updates or corrections.
Privacy Rights
You have the right to request that we disclose certain information to you about our collection and use of your personal information over the past 12 months. Once we receive and confirm your verifiable consumer request, we will disclose to you:
The categories of personal information we collected about you.

The categories of sources for the personal information we collected about you.

Our business or commercial purpose for collecting or selling that personal information.

The categories of third parties with whom we share that personal information.

The specific pieces of personal information we collected about you (also called a data portability request).

If we sold or disclosed your personal information for a business purpose, two separate lists disclosing:

sales, identifying the personal information categories that each category of recipient purchased; and

disclosures for a business purpose, identifying the personal information categories that each category of recipient obtained.
California Civil Code Section § 1798.83 permits users of our Site who are California residents to request certain information regarding the Company's disclosure of personal information to third parties for their direct marketing purposes. To make such a request, please send an email to Privacy@meritagehomes.com.
In addition, under California law, web site operators are required to disclose how they respond to web browser 'do not track' signals or other similar mechanisms that provide consumers with the ability to exercise choice regarding the collection of personal information of a consumer over time and across third party web sites, to the extent the operator engages in that collection. We do not respond to any such 'do not track' signals, as no one do not track standard has gained consensus.
Deletion Request Rights
You have the right to request that we delete any of your personal information that we collected from you and retained, subject to certain exceptions. Once we receive and confirm your verifiable consumer request (see Exercising Access, Data Portability, and Deletion Rights), we will delete (and direct our service providers to delete) your personal information from our records, unless an exception applies.
We may deny your deletion request if retaining the information is necessary for us or our service provider(s) to:
Complete the transaction for which we collected the personal information, provide a good or service that you requested, take actions reasonably anticipated within the context of our ongoing business relationship with you, or otherwise perform our contract with you.

Detect security incidents, protect against malicious, deceptive, fraudulent, or illegal activity, or prosecute those responsible for such activities.

Debug products to identify and repair errors that impair existing intended functionality.

Exercise free speech, ensure the right of another consumer to exercise their free speech rights, or exercise another right provided for by law.

Comply with the California Electronic Communications Privacy Act (Cal. Penal Code § 1546 et. seq.).

Engage in public or peer-reviewed scientific, historical, or statistical research in the public interest that adheres to all other applicable ethics and privacy laws, when the information's deletion may likely render impossible or seriously impair the research's achievement, if you previously provided informed consent.

Enable solely internal uses that are reasonably aligned with consumer expectations based on your relationship with us.

Comply with a legal obligation.

Make other internal and lawful uses of that information that are compatible with the context in which you provided it.
Exercising Access, Data Portability, and Deletion Rights
To exercise the access, data portability, and deletion rights described above, please submit a verifiable consumer request to us by either:
Calling us at 1-844-242-7644.

Emailing us at Privacy@meritagehomes.com.
Only you or if you live in California someone registered with the California Secretary of State that you authorize to act on your behalf, may make a verifiable consumer request related to your personal information. You may also make a verifiable consumer request on behalf of your minor child.
You may only make a verifiable consumer request for access or data portability twice within a 12-month period. The verifiable consumer request must:
Provide sufficient information that allows us to reasonably verify you are the person about whom we collected personal information or an authorized representative.

Describe your request with sufficient detail that allows us to properly understand, evaluate, and respond to it.

We cannot respond to your request or provide you with personal information if we cannot verify your identity or authority to make the request and confirm the personal information relates to you.

Making a verifiable consumer request does not require you to create an account with us.

We will only use personal information provided in a verifiable consumer request to verify the requestor's identity or authority to make the request.
More Information About Your Privacy Rights
Security and Third Parties
Company takes commercially reasonable measures to secure and protect your information. Information submitted to Company is held in a password protected database. To the extent any such payment or higher risk information is collected by Company, it will be done so in a secured environment at or above industry standards.
The Site may contain links to other websites, including, but not limited to, investor relations sites, job applicant information gathering, assessment, and testing sites, and preferred lender sites. These third-party sites have their own measures to secure and protect your information. This Privacy Notice (and related Terms of Use) do not apply to these third-party sites.
Company cannot guarantee, however, that any electronic commerce is totally secure. For example, even though Company will not release your personal information except as described in this Privacy Notice, Company has no control over the information collected by your Internet service provider or information that you disclose over a public network. Company is not responsible for any information collected by third parties not within our control and/or how such information is used or maintained. Neither Company nor any third party has the authority to make any representations or commitments on behalf of the other.
Children Under the Age of 13
Company does not knowingly collect any Personally Identifiable Information from children. Please do not allow children under the age of 13 to provide any Personally Identifiable Information, ask questions, or submit information via the Site. If you become aware that a child under 13 has provided personal information to Company, please contact us at Privacy@meritagehomes.com so that we can delete the information.
Questions, Comments, or Complaints Regarding this Privacy Policy
If you have any questions or comments regarding this Privacy Policy, please contact Privacy@meritagehomes.com.