When it comes to designing the inside of your house, less is more, says Aundrea Brown, Vice President of Sales & Marketing at Intermark Design Group.
"There's a need for less clutter," says Brown. "We're finding that homebuyers want to have less stuff in their home and allow things like texture in the furniture to be their accent. And I think that a majority of them are looking for that cleaner look." She says "a more minimalistic lifestyle showcases style and trend with little to no maintenance."
That's what the Intermark Design Group is seeing as they stage houses for companies like Meritage Homes.
Amber Shay, National Director of Design Studios with Meritage Homes, says that's definitely the trend buyers are leaning towards in 2020: "The less is more concept is clearly coming through in buyer preferences for the type and style of the products they are choosing."
Ready to embrace a more modern look for your home in 2020? Take a look at the seven interior design trends of the year.
COLOR
Consider using a blue, such as Sherwin Williams' Color of the Year Naval, if you plan on adding color to a room. It mixes well with a lot of other tones and is considered a "safe" color for 2020. It blends with furniture, accents, and other paint colors to give a nice complementary color scheme.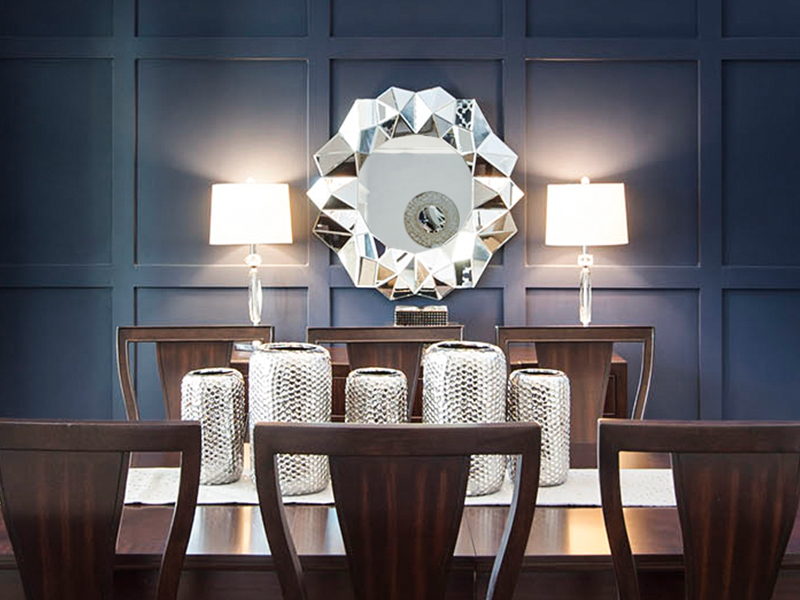 MIXING METALS
Matte black fixtures and hardware are very popular right now and tend to be the staple when it comes to design, helping create a nicely executed clean aesthetic. Brown says to use matte black as your main metal and add in small accents of champagne or brass. But remember, less is more! Don't mix more than two metals.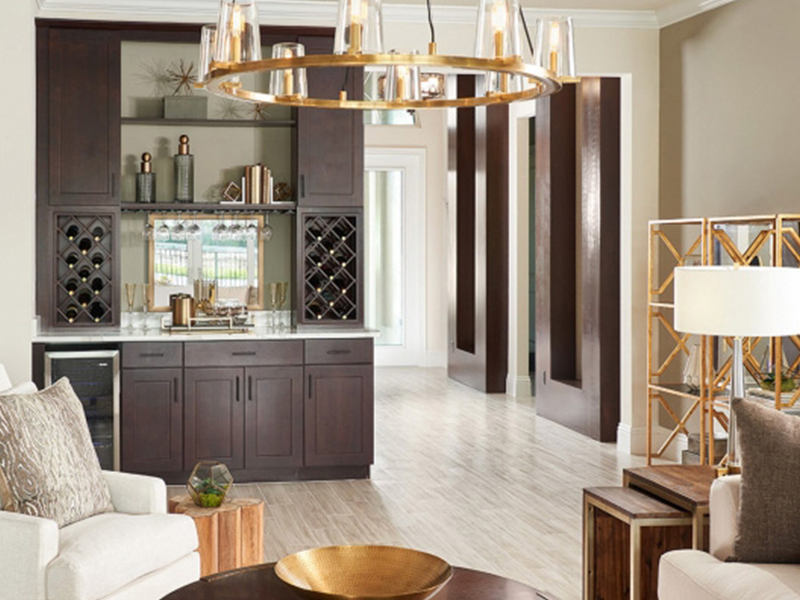 CABINET COLOR
Brown says she still sees white cabinets, but natural wood tones are having a moment. Colors like sawdust mix well with white.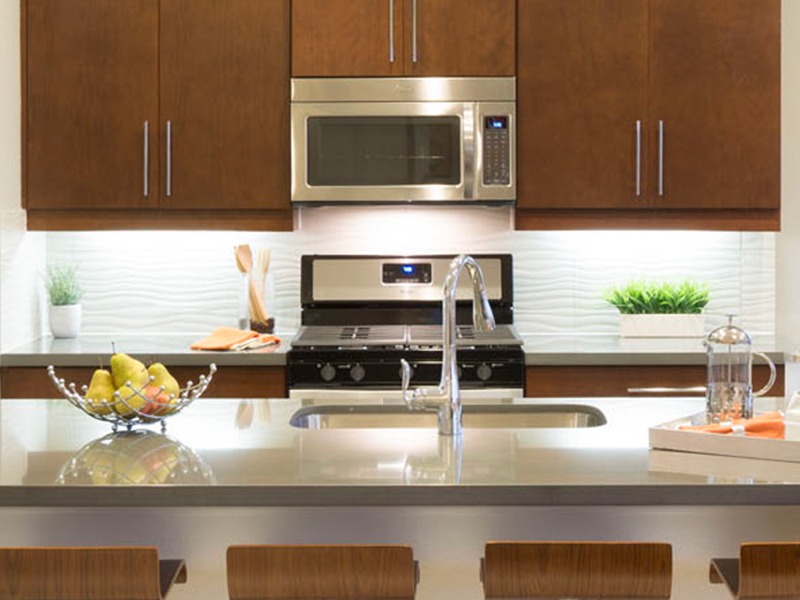 USE OF PATTERNED OR TEXTURAL TILES
They give a lot of symmetry and dimension to designs. If you're going to use these types of tiles in your home, Brown says, do it within a small focal area and not a primary area in the home; otherwise it gets too busy.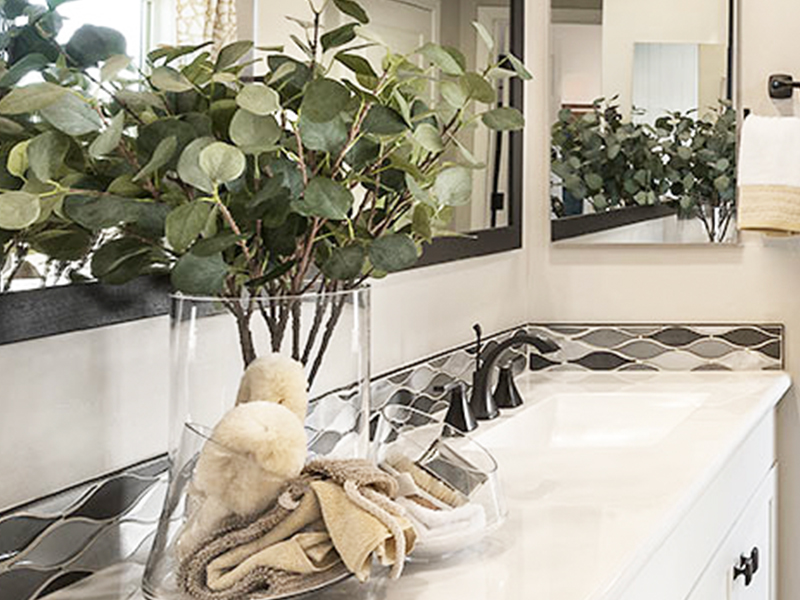 INCORPORATING NATURE IN DESIGN
Elements in nature can easily be incorporated into home interiors to add texture and vibrancy. Add accents like a burl wood coffee table or living plants throughout the home.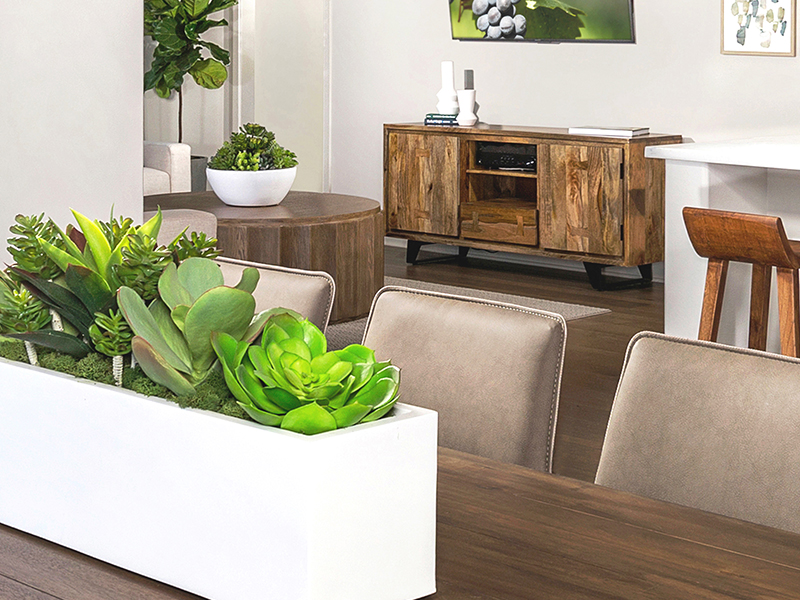 GALLERY WALLS
These are great options to fill space and can provide symmetry to a room. A gallery wall doesn't necessarily have to be pictures of people or pets but can have textural elements like wood pieces or greens.
VELVET
Brown says she is seeing more homes using colored velvet on upholstery, with colors such as mustard yellow or navy. It really gives the room a contemporary look, and also adds a little bit of softness.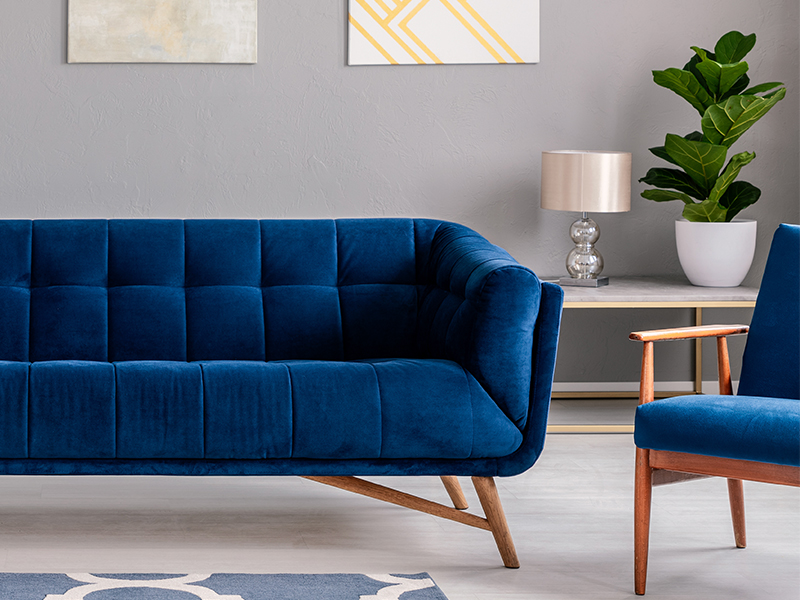 Life. Built. Better.® HOUSE to HOME is published periodically by Meritage Homes Corporation (together with its affiliated entities, "Meritage"). All articles and editorial material (including, but not limited to, features, editorial comments, opinions, and statements) appearing in this publication represent the views of the respective authors or persons quoted, whether or not specific attribution is made herein, and do not necessarily represent those of Meritage, which accepts no responsibility for such views. Any information contained in this publication has been gathered from sources believed to be reliable, but the accuracy of such information is not guaranteed and Meritage disclaims any responsibility for such information. The mention of specific products and/or services in this publication does not constitute an endorsement or approval of such products and/or services by Meritage, and such products and/or services may not be available with respect to every, or any, Meritage home. Visit http://www.meritagehomes.com/featuredescriptions for information and disclaimers about energy-efficient features and associated claims pertaining to Meritage Homes. All material in this publication is copyright and no part of this publication may be reproduced, in whole or in part, without written permission of the copyright holder. Meritage Homes®, Life. Built. Better.®, and Setting the standard for energy-efficient homes® are trademarks of Meritage Homes Corporation. ©2019 Meritage Homes Corporation. All rights are reserved.